Local Housing Ministries
First Church's Housing Ministry Team partners with Habitat for Humanity of Dane County to help improve neighborhoods in need of revitalization and provide new homes for those who otherwise could not afford them. First Church volunteers work with volunteers from other organizations and churches in the area, as well as the host family members, to move low-income families from renting to home ownership. In addition, First Church hosts fundraising activities to annually support Habitat financially.
Fundraising (PDF)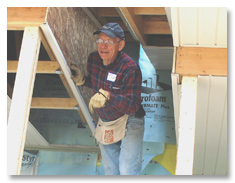 Local Housing Ministries participation in Habitat for Humanity local builds and rehabilitation projects; opportunities are highlighted in Chimes; or contact via email or phone (608.240.0855).
Past Projects
First house sponsorship in Habitat for Humanity of Dane County's Twin Oaks subdivision (2003-04) in cooperation with the Cantu-Vasquez family.
Apostles Build 1 (2005-06) in Twin Oaks with 10 other area churches and the Severson family building the Severson's home.
Apostles Build 2 (2006-07) in Twin Oaks with 9 other churches and the Xiong family building the Xiong's home.
Community partner in Habitat for Humanity of Dane County's Urban Neighborhood Initiative (2008 to present) helping build houses in Madison at Northport Commons, on Ridgeway Avenue and Taft Street.