Location
The First United Methodist Church in Madison, WI is "Downtown for Good" at 203 Wisconsin Ave. (The corner of Dayton and Wisconsin Aves.) We're just one block away from the Capitol Square, as well as State Street and downtown hotels. We're in the heart of Madison's arts district, including the Overture Center. Click here for a map.
Driving directions to First United Methodist Church

From south I-90
Take the Hwy 12/18, left-hand exit west; John Nolen exit; left turn on Broom St. downtown; right turn on Johnson St. First Church is on the corner of Wisconsin Ave. and Johnson St.
From Hwy 14
Hwy 14 becomes University Ave. in Middleton, which becomes Johnson St. downtown. First Church is on the corner of Wisconsin Ave. and Johnson St.
From north I-90 and Hwy 151
Exit Hwy 151 south (E. Washington Ave.); turn right on Webster near downtown; left on Dayton Ave. First Church is on the corner of Dayton Ave. and Wisconsin Ave.
Parking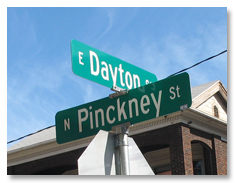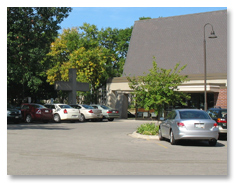 Our Madison, WI church has multiple parking options for your convenience.
While the church parking lot, located at E Dayton St and N Pinckney St, is designed for easy drop-off for everyone, on Sunday mornings our church parking lot is reserved for drivers with a mobility issue and for first time visitors.
On Sundays, there are also meters covered with blue "Handicapped Parking" bags on the 200 block of Wisconsin Ave. These are available for those with disability plates or tags. Of course, street parking is free on Sunday – including the Capitol Square.
Click here to see an enlarged map with various lots, parking ramps and street space options for Sunday mornings.
Free parking (Sundays only)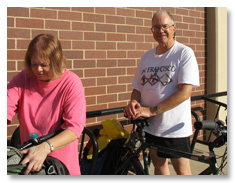 1a. Hiebing Lower Lot (covered parking)
Enter through lot behind the Masonic Temple. Enter on E. Johnson. Please DO NOT park in uncovered spots behind Masonic Temple (marked Masonic Lodge).
1b. Hiebing Upper Lot
Enter this lot on N. Pinckney between E. Johnson and E. Gorham. The Church has permission from Hiebing to use these lots for Sunday parking only.
2. Urban Land Interests ramp
This is the large parking ramp slightly to the east (left) from the First Church parking lot directly across E. Dayton Street. You must drive in the N. Pinckney St. entrance and take a ticket as you enter. Pay $5 when you exit or use the Free Parking Voucher in the Sunday bulletin. (Of course, it's always free if there is no attendant when you exit!)
3. Grant Thornton Parking Lot
For "heart-healthy" worshippers, go north on Wisconsin Ave. (toward Lake Mendota). Turn right into the lot just before you enter the Edgewater parking lot. (Parking is free to the church on Sundays)
Regular City Parking Ramps nearby
4. State St.-Capitol City Parking Ramp
You can enter on Johnson, Carroll, or Dayton St. There is an elevator on the corner of Carroll St and Dayton.
5. Capitol Square North City Parking Ramp
This ramp is at the corner of N. Webster and E. Mifflin. Enter on E. Mifflin or N. Butler.