Being Present With One Another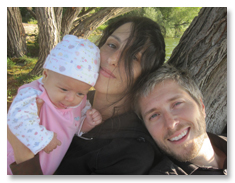 Our little girl, Selah, just turned three months old. It seems like every day she hits a new milestone, holding her head up a moment longer, babbling a new syllable, outgrowing another onesie. Like many new parents, we find ourselves thrilled by her growth, while wanting to stop time, and keep her small forever.
The warm days are passing too. In a few weeks the trees will be bare, and frost will cover the morning grass. In these moments it feels as if life is flying by. It makes us want to soak in every second with our daughter and drink up each last hour of sunlight.

Still, it is easy to get caught up in all the things that need doing: laundry, dishes, deadlines, church events, and oh yeah, sleep – it can be a challenge to just be present with our little girl without thinking of our long to-do lists.
I can't imagine what families from our youth group must feel with the increasing obligations of work, school, homework, friends, and extracurriculars like sports and theater. Not to mention making church and youth group a priority. There are so many options and obligations today, but time doesn't stop and it can be easy to slip into "managing" a family instead of truly being present with one another.

The daily changes in an infant are obvious, but we can't forget that our youth are also going through drastic changes: taking in new ideas, new experiences, and wrestling with issues that we never had to consider in our youth. It's important that we listen to their questions, hear their stories, and witness and honor who they are becoming. We have incredible youth in this church and we are continually awed by their growing introspection, spiritual openness and integrity in striving to live out their values. These are all integral aspects of our youth program – looking at who we are and what we believe, and helping each other live that out. We are truly honored to be present with them as they grow.
Likewise, being present in each moment is a way that God reveals his presence with us. So remember to be present with your family and enjoy the brilliance of the season as it changes, the trees as they go from green to scarlet to bare branches outlined against a clear sky.

Seth and Nichole Schroerlucke