Foundation
The First United Methodist Church Foundation supports projects and programs strategically aligned with the church's vision and mission that typically are not included within the church's regular annual budget. All funds managed and directed by the Foundation are considered endowments unless specifically stated otherwise by a donor agreement. Thus, most funds are invested to preserve principal and provide future income for distribution. Gifts to the Foundation enhance the church's ministries, present opportunities for givers to make a difference and truly are gifts that keep on giving.
Each year one Sunday, usually in May, is set aside as Foundation Sunday. Please check the the church events calendar for the exact date this year.
Anyone interested in contributing to the FUMC Foundation can simply contact the church office at 203 Wisconsin Ave., Madison, WI 53703. Phone: 608.256.9061. Email: .
Ministries to Support:
The Foundation welcomes gifts of any size that support the church's mission, vision and areas of strategic focus. Gifts to the Unrestricted Fund are encouraged and used at the discretion of the Church Council and Foundation Board to finance special initiatives, programs and ministries as opportunities arise. Gifts to the Unrestricted Fund allow grants to be awarded for worthy and exciting new projects that may not be anticipated at the time a gift is made.
It also is possible to create Restricted Funds that can be used for only certain purposes designated by a giver, provided the gift exceeds $10,000. The following Restricted Funds exist:
Alton-Van Dyke Scholarship Fund
Brockhaus Fund
Dave Ellis & Rosine Geiser James Fund
Food Pantry Director's Salary Fund
Grounds Care and Improvement Fund
Holum Benevolence Fund
Irene and Ernest Walker Fund
Minister's Fund
Older Adult Council Fund
Olson Youth Fund
Runkle Library Fund
Van Dyke Youth Fund
If desired by a potential giver, the Foundation Board welcomes the opportunity to discuss gift aspirations, intentions and designations, either related to funds noted above or a new designation. Contact Kathie Nichols at 608.256.9061 or for details.
Please click here to read last year's Foundation Grants Report about projects and programs recently awarded support grants.
Apply for a Grant
Foundation grants are awarded twice each year:
In the spring - Application Deadline May 1
In the fall - Application Deadline November 1
Church staff and members interested in seeking grants will find instructions and request form below. Please contact the church office at with any questions.
FUMC Foundation Grant Request Form (Word Document)
Give a Gift
Anyone interested in contributing to the Foundation may do so. There are several different ways to give:
A cash gift is a convenient way to support the Foundation.
You can also donate stocks, bonds, mutual fund shares or real estate directly to the Foundation.
Consider listing FUMC as the beneficiary on the life insurance policy or pension fund you now hold. You may find your original reason for purchasing the life insurance policy no longer exists or that your financial situation has changed. You may also make a gift of the unneeded policy for its cash or surrender value.
When you prepare your will you can leave the Foundation a gift in the form of cash, securities, real estate or other assets. You can give a percentage of your estate, a dollar amount, or leave specific properties.
A charitable gift annuity or a charitable remainder trust can be set up to provide you with income for property for the rest of your life, while ensuring that the Foundation benefits from the remainder of the trust or annuity upon your death. You give the gift of property now, but continue to benefit from fixed or flexible income, as well as potential tax benefits. Consult your financial planner for more information.
Contact the church office at for more information, if needed.
FAQs
Q: Can I honor or memorialize someone with a gift to the Foundation?
A: Yes! Contributions are often given in memory of a loved one who has passed on, or in honor of a friend or relative. A contribution to the Foundation in someone's name can be a wonderful gift for the person who has everything.
Additional Information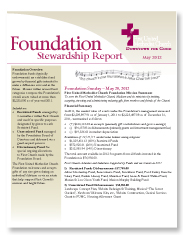 Stewardship Report - May 2011
Stewardship Report - May 2010
Foundation Meetings
Board meetings are usually held the 4th Wednesday of January, March, May, July, September and November, typically at 7:30 a.m. at First United Methodist Church in Madison, WI. Church members and other visitors are welcome to attend.
Foundation Board Members
Jim Blanchard
Matt DeVos (President)
John Hutchinson (Vice President)
Bruce Marion
Angel McClarey (Secretary)
Ray Petkovsek (Treasurer)
Ex-Officio and Liaison Members
Keith Schroerlucke (Pastor)
Carrol Spencer (Trustees)
Kate Vanderheiden (Church Council)
Kathie Nichols (Staff Liaison)